The Coaster, usually it's called "Beer mat" in USA,"Pub mat" in UK,"Koppushiki" in Japan. When Whisky born in 1780, I believe the Coaster also invention at same time. You know, Necessity is the mother of invention. (Mr. Edison is a father of invention.)
*
Today, Coaster is made of wood, stone, glass, cloth, cork, and any other material. But traditionally and basically, the best material is paper. It could keep water drop without words. You could print colorfully.
The Coaster is always there for you. Actually, It's always under the glass.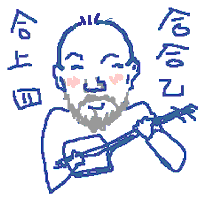 Born in little fisherman village. Leaved Zabiel kinder garden in mid-course. Learn about the way of living by his own self. Study how to draw picture by him selves.
*
Once up on a time, He was a kid who delivery the news paper. He delivery every evening during summer time.
Once up on a time, He was a boy who work at a bar, back in counter. He wash dish every night during winter time.
Once up on a time, He was a guy who called illustrator . He draw and paint every day during wake up.
*
Time goes by. He get a side job. You know, it's the pilot. He fright to the Coaster Islands 24 hour a day.